News & Events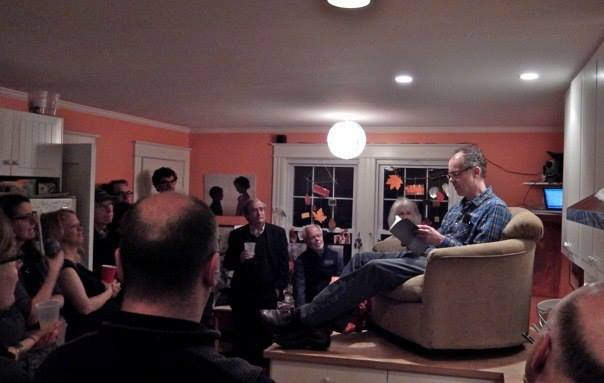 Jeffrey Harrison reading from the kitchen counter at the novelist Lewis Robinson's house.
News
Jeffrey Harrison's latest book of poems, Between Lakes, published by Four Way Books in September 2020, was a finalist for the New England Poetry Club's Sheila Margaret Motton Book Prize and has been chosen by the Massachusetts Center for the Book as a Must-Read poetry book for 2021.
Jeffrey Harrison's poem "Higher Education," first published in The Yale Review, is featured in Best American Poetry 2017.
Jeffrey Harrison's poem "Afterword" appears in Best American Poetry 2016.
The Massachusetts Center for the Book chose Jeffrey Harrison's Into Daylight as one of six "Must Read" poetry books for 2015.
In April 2015, Harrison spent two days visiting the Westminster School as the 15th Westminster Poet. Read more.
Jeffrey Harrison was awarded a fellowship from the Bogliasco Foundation for the fall of 2014 and spent a month at the Luguria Study Center in Bogliasco, Italy.
Incomplete Knowledge made the BookSense top ten list for 2007 as well as the Poetry Foundation's best seller list and was one of two runners-up for the 2008 Poets' Prize.
Events
2021:
January 27, 7:30
Sumita Chakraborty, Jeffrey Harrison, Peter Schmitt, and Kim Sousa
Wild & Precious Life Series (virtual)
https://wildandpreciouslifeseries.com/schedule/
February 21, 2:00 pm
Jeffrey Harrison and Roger Reeves
Brookline Poetry Series
Brookline Pubic Library
https://www.brooklinelibrary.org/special/brookline-poetry-series/
March 5, 8:00 pm
Four Way/Autumn House/Bull City group reading
Bootleg Reading Series (virtual)
https://bootlegreadingseries.com/2020/12/09/friday-march-5-2021/
April 7, 7:00 pm
Chard deNiord, Jessica Greenbaum, and Jeffrey Harrison
Wellesley Books (virtual)
Wellesley, MA
https://www.wellesleybooks.com/event
April 19, 7:00 pm
Jeffrey Harrison and Peter Schmitt
Books & Books (virtual)
Miami, FL
https://booksandbooks.com/events/
May 9, 3:00 pm
Kathleen Aponick, Jeffrey Harrison, Ed Meek
New England Poetry Club (virtual)
https://nepoetryclub.org/event/new-poetry-open-mic-7/
May 14, 7:30 pm
Jane Brox, Jeffrey Harrison, and Jennifer LeBlanc
Chapter and Verse Literary Series (virtual)
Jamaica Pond Poets
http://jamaicapondpoets.com/chapter-and-verse-by-zoom/
June 26, 8:00 pm EST
Jeffrey Harrison and Lesléa Newman
"Fathers" reading (virtual)
Poets Theater
Sommerville, MA
https://0830club.com/event/poets-theater/
October 7, 6:00 pm
Jeffrey Harrison (in-person and virtual)
The Mercantile Library
414 Walnut Street, #1100
Cincinnati, OH 45202
https://mercantilelibrary.com/calendar/between-lakes/
2020:
September 16, 1:00 pm
Stockbridge Library (virtual)
Stockbridge, MA
stockbridgelibrary.org
Register: https://stockbridgelibrary.org/2020/09/online-poetry-medicine-for-the-soul-featuring/
September 17, 6:30 pm
Four Way Books Authors Launch
Shakespeare & Company (virtual)
New York, NY
www.shakeandco.com
events@shakeandco.com
Event registration: https://www.eventbrite.com/
September 30, 7:30 pm
An Evening with Four Way Book and Nightboat Books
Greenlight Bookstore (virtual)
Brooklyn NY
www.greenlightbookstore.com
Register: https://www.greenlightbookstore.com/event/evening-w-four-way-books-nightboat-books
October 18, 4:00 pm
Edward Hirsch and Jeffrey Harrison
Hudson Valley Writers Center (virtual)
Sleepy Hollow, NY
www.writerscenter.org
Register: www.writerscenter.org/calendar/hirschharrison
October 19, 7:00 pm
Jeffrey Harrison and Owen Lewis
KGB Bar (virtual)
New York, NY
https://kgbbar.com
November 2, 7:15 pm
Jeffrey Harrison and Nathalie Handal
Blacksmith House Poetry Series (virtual)
Cambridge, MA
Register: https://ccae.org/blacksmithpoetry
November 5, 7:00 pm
Steven Cramer, Jeffrey Harrison, Joyce Peseroff
Cary Library (virtual)
Lexington, MA
www.carylibrary.org
November 8, 3:00 pm
Jeffrey Harrison and Matthew Lippman
Concord Free Library (virtual)
Concord, MA
concordlibrary.org
Register: eventkeeper.com
November 14, 2:00 pm (Rain date November 15)
Arts Café Mystic (Live, outdoor event)
The Mystic Museum of Art
9 Water Street
Mystic, CT
theartscafemystic.org/
---
Jeffrey Harrison is available to give readings, interviews, visit schools, or teach workshops; contact by email: jeffrey.harrison@comcast.net
Jeffrey Harrison, on left, signing books at the launch
of Incomplete Knowledge, Nov. 11, 2006. Reading at Trinity School in 2009.
Photo: Bill Zavatsky